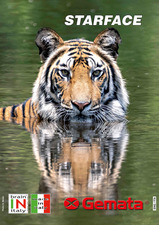 STARFACE is a revolutionary patented roller machine specifically designed to apply a chemical on the flesh side of leather.
The design of the STARFACE machine is specular compared to traditional roller machines. At the bottom it is fitted with an engraved cylinder that processes the bottom side of the leather.
The amount of product deposited by the machine on the flesh side of the leather is calibrated by the engraving of the applicator cylinder. On the upper part of the machine, there is a rubber roller that guarantees mechanical transport.
STARFACE entirely eliminates contamination from dust and fluff caused by layers of leather placed on top of each other and from dust in the room. Therefore STARFACE provides a considerable advantage for the tannery, with increased quality of the produced leather and, as a result, its cutting percentage.

Here are the machine's distinguishing features:
The leather is fed in and perfectly stretched out by feeder belts that eliminate any crease.
Very short item changeover times, limited maintenance and easy use even with unskilled operators.
The machine and engraved cylinder are easy to clean, thanks to the piping attached directly to the ink tank.
Speed control of the conveyor cylinder separated from that of the leather feed and stretching belts, to compensate for variations in leather thickness and guarantee high precision of the working thickness.
Full control of machine functions, process parameters and failures via a touch-screen display.
Automatic detachment of the leather from the lower engraved cylinder by a roller conveyor system.
The leather is conveyed into the tunnel by using an electronically-operated motorised outfeed belt.
Production data can be transferred via the company's network.

STARFACE allows for the automated application of resins on the flesh side, creating a finishing line in continuity with the other machines that apply the leather coating. With STARFACE, the leather no longer needs to be put on a stand or pallet to take it to the finishing line, but can enter directly inside the roller machine or spray booth that applies the coating.