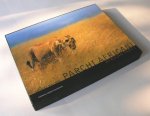 The most beautiful African species and picturesque scenery photographed and described by the wildlife photographer and experienced traveller Gianni Maitan.

From Kenya to Tanzania, from Zambia to Botswana, from Namibia to South Africa, over two hundred spectacular colour pictures, featuring concise descriptions and precise maps, give a wonderful cross-section of African parks, a worthy destination for tourists attracted to the charm of wild landscapes, natural environments, and the plants and animals of a continent still unspoiled in many regions.

AFRICAN PARKS, to read and enjoy comfortably at home, is an extraordinary journey of the imagination through some of the most enchanting places of the world.