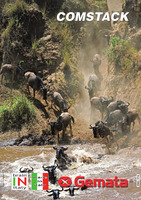 Gemata presents the new COMSTACK stacking machine to stack hides at the exit from any kind of continuous machine.
COMSTACK is the outcome of FBP's years of experience together with Gemata's deep research, bound to satisfy the most exigent market requirements.
COMSTACK, with 80 m/min working speed, allows to increase the production up to 1000 half hides/hour crosswise.
COMSTACK, with a maximum working height of 2000 mm and a run of 3000 mm, allows to stack 350 hides on horse.
A long testing by some of Arzignano's leading tanneries has enabled to produce a machine with high quality characteristics, reliability and easiness of use never reached so far in the models currently on the market. There are many innovations in COMSTACK that allow a simple operativity and a reduced maintenance:
The translation of the hides unloading belt is driven by two ground gears and rack made of highly resistant synthetic material. The gears are driven by two self breaking gearmotors, electronically synchronized, that allow a perfect speed modulation.
The loading conveyor, with open apart belts to constantly spread the leather, features a double photocells bar to exactly check and determine the length of the hides. The photocells can be easily replaced by means of a simple connector.
The highly resistant thermo-welded belts made of synthetic material run on a perforated plate to avoid the sticking effect and reduce the friction to the minimum. The vertical translation of the rail is controlled by two strong chains, driven by a self-braking gearmotor, inverter controlled, in order to achieve a fast and silent movement.
The controls of all machine devices are located on a large and convenient panel. On this control panel a big liquid crystal display allows to show all the machine functions and by means of animated diagrams set quickly and easily the working parameters.
A special "HELP" button guides the operator in case of problems and supports him in the personalization of the working cycles. Any electrical device fault is easily and rapidly located thanks to an inbuilt self-diagnosis function.
Possibility to customize over 100 working cycles.
Upon request it is possible to equip COMSTACK with one or both devices for vertical automatic lifting of rails to extract sideways the horse or the table. Said devices are absolutely necessary when, due to space constrictions, the stacker is positioned close to a wall or to another machine.