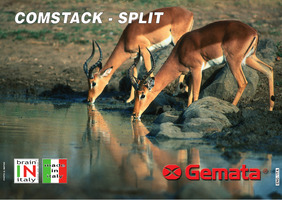 Gemata presents its new stacking machine that is designeds to be installed at the exit of any type of splitting machine. The COMSTACK-SPLIT model can stack grain and split in separate positions.
COMSTACK-SPLIT is the result of the long experience gained in the sector by FBP combined with in depth research carried out by Gemata aimed at satisfying the most exacting market demands.

COMSTACK-SPLIT has a work speed of 60 m/min, this permitting an increase in production up to 600 hides/hour.

COMSTACK-SPLIT can stack the skins, personalising the final stacking positions completely. Skins can be stacked with grain side facing up or down, or folded over according to delivery needs; in any case the grain and split skins are stacked separately.

Long work in experimenting in top Arzignano tanning companies has led to the designing of a highly reliable machine with top quality standards, large production levels, and simple operating functions that have never yet been attained by any similar machines on the market.

There are many innovations in COMSTACK-SPLIT that allow a simple operativity and a reduced maintenance:

The traverse action of the skin unloader belt system is controlled by a high resistance synthetic internal ground gears. The gears are driven by electronically synchronised gear motor transmission that provides perfect speed modulation.

Both the split and grain loading belts are equipped with spreader strips to spread the skins while they are being raised.

Skin positioning precision is one of the outstanding features of the COMSTACK-SPLIT machine. This is obtained with the insertion of high power gripping strips in the loading belts where it is essential that transport can be ensured even for the most slippery skins. The conveyor belts use high resistance synthetic heat sealed strips to increase sliding capacity and prevent gripping.

The handling action performed by the raising equipment has been specially designed to make these operations rapid and easy. On request, the machine can be equipped with a special button panel located inside the unloading zone to permit the operator to monitor and control all operations in complete safety.

All machine function controls are located on a large, easy-to-use control panel. This panel also contains a large liquid crystal display to show all machine functions and animated diagrams help the operator adjust work parameters rapidly and easily.

A special "HELP" button guides the operator in the case of any difficulty on the machine or in personalising work cycles. A self-diagnosis function will identify any malfunction on all electrical components rapidly and simply.

COMSTACK-SPLIT also provides the possibility of personalising more than 30 work cycles making machine function very rapid, and easily comprehensible for successive stages.

On request, the machine can be equipped with devices for measuring skin thickness to calculate the quality of the skin in exit from the splitting machine immediately, printing and cutting systems to complete the continuous work cycle system which eliminates the necessity of subjecting the skins to further processing at a later stage.

Moreover, also on request, all parts that are in contact with wet materials and that risk corrosion, can be supplied in stainless steel.