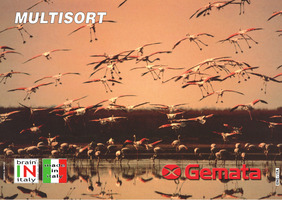 Gemata presents its new MULTISORT piling system for piling skins at the exit of all types of continuous processing machines, selecting the skins according to quality at the same time.
MULTISORT is the outcome of FBP's years of experience together with Gemata's deep research, bound to satisfy the most exigent market requirements.
MULTISORT work speed is 60 meters per minute, increasing production up to 600 backs per hour.
MULTISORT is able to pile skins according to quality; grain can be placed upside, downside or folded over inwards according to delivery needs; the system provides piling diversification for all unloading work positions.
A long testing by some of Arzignano's leading tanneries has enabled to produce a machine with high quality characteristics, reliability and easiness of use never reached so far in the models currently on the market. There are many innovations in MULTISORT that allow a simple operativity and a reduced maintenance:
The translation of the hides unloading belt is driven by two ground gears and rack made of highly resistant synthetic material. The gears are driven by two gearmotors, electronically synchronized, that allow a perfect speed modulation.
Specially designed separate spaced conveyor belts to ensure constant alignment for loaded skins, and equipped with photocell bar to control skin selection, as well as to guarantee absolute precision when placing the skins on the raising equipment. The photocells can be easily replaced by means of a simple connector.
The highly resistant thermo-welded belts made of synthetic material run on a perforated plate to avoid the sticking effect and reduce the friction to the minimum. The raising equipment handling action has been especially designed for easy rapid operations. A specific keyboard located inside the unloading zone provides absolute control in complete safety for the operator.
The controls of all machine devices are located on a large and convenient panel. On this control panel a big liquid crystal display allows to show all the machine functions and by means of animated diagrams set quickly and easily the working parameters.
A special "HELP" button guides the operator in case of problems and supports him in the personalization of the working cycles. Any electrical device fault is easily and rapidly located thanks to an inbuilt self-diagnosis function.
Possibility to customize over 100 working cycles.
On request, MULTISORT can be equipped with additional devices such as measuring systems for thickness or surface, to make the selection of the final skin position on the pallet, stamping equipment, and cutting equipment completely automatic. This permits continuous operations, eliminating further processing on the skins. In addition, also on request, all parts that risk corrosion because of location in wet environments can be supplied in stainless steel.