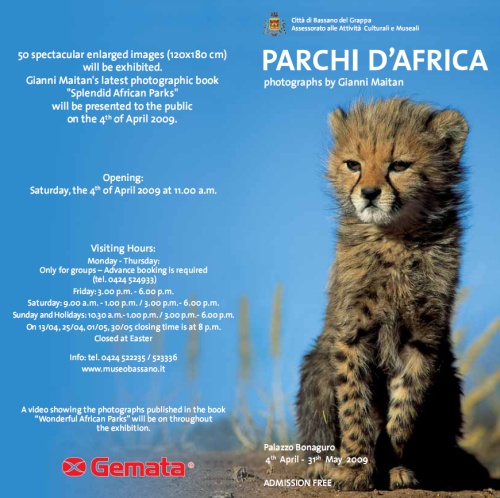 The Department for Culture of the City of Bassano del Grappa organizes from 4 April to 31 May 2009, at Palazzo Bonagura (Via Angarano, 77), the photo exhibition entitled "Parks of Africa Photographs by Gianni Maitani", which will be opened Saturday April 4 at 11:00 am.

Visitors will have the opportunity to admire about 50 images, taken from the new book by Gianni Maitani Beautiful African Parks (288 pp. distribution in autumn, published by De Agostini). The photos, including those awarded prizes in national and international competitions and in part unpublished, are presented in spectacular big format.

The exhibition will remain open at the following times:

Friday: 3.00 pm - 6.00 pm

Saturday: 09.00 am – 1.00 pm and 3.00 pm - 6.00 pm

Sunday and Holidays: 10.30 am – 1.00 pm e 3.00 pm - 6.00 pm

On days 04/13, 04/25, 05/01, 05/ till 8.00 pm.

Closed Easter.

It is also open for groups from Monday to Thursday by appointment, call number 0424 524933.

For info: 0424 522235 / 523336.