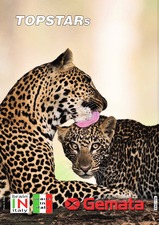 Gemata's long experience as world leader in leather finishing combined with in-depth research and extensive laboratory and tannery experimentation work has led to the development of TOPSTARs.
TOPSTARs is a revolutionary roller coating machine especially designed for colour coat and top coat sincro application on smooth and embossed leather.
With TOPSTARs it will eventually be possible to finish leather without involving spray cabins with great economical advantages and with respect for the environment.
†
This technology guarantee:
Reduction of chemical consumption from 50% up to 70% both for colour and top coat
More uniformity and better distribution of pigments and chemicals on the entire leather surface also including light weight areas
Coating quantity ranging from about 1.5 to 4.0gr/sq ft (15-40gr/sqm) for each pass
Thanks to better coating efficiency it is also possible with a single pass to correct dark tones to lighter tones
Use of chemical product with no water added (higher percentage of dry components)
†
The main features of TOPSTARs are: ∑
Zero emissions: environment friendly technology, no more air pollution and no need of exhaust air scrubbers
Reduced energy consumption compared with traditional spray cabins.
Low noise level (fully within the limits stated by law)
Total absence of vibration in all moving parts.
Possibility of finishing all types of leather, smooth or embossed, at a very high rate of productivity
Extremely reduced downtime involved in the changeover of various articles, low maintenance and easy machine operation even by unexperienced personnel
All machine parts in contact with chemicals are protected with anti-adherent treatment to reduce cleaning time as much as possible when changing the process
The counter and conveying roller is made of chrome plated steel to increase the quality of the finishing and to reduce the maintenance costs
Automatic feeding and spreading device for soft leathers (Spreader)
Leather detaching unit made of aluminium rollers device for the automatic detaching of the leathers at the exit of the engraved roller
Leather detaching unit made of steel rollers device for the automatic detaching of the leathers at the exit of the chrome plated roller
Exit motorized belt to insert leather into the drying tunnel
Stainless steel washing tank equipped with quick pneumatic exclusion system: this solution is used either to lower the tank and to prevent the brush and the roller cleaning blade from touching the roller at the end of the working cycle