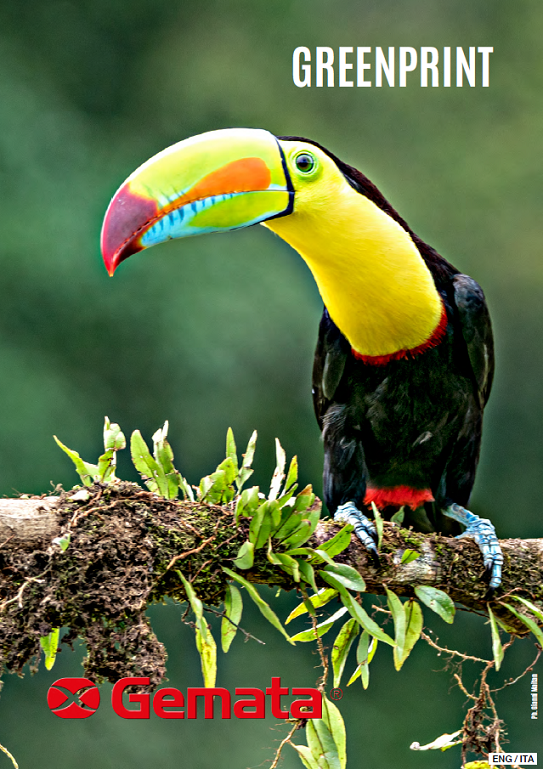 GREENPRINT represents the new generation of roller machines for leather finishing. It is the result of thirty years of experience acquired by GE.MA.TA. as a leader in the leather finishing sector combined with the ecological vision that predictably leads to the search for machines that are more and more technically performing and less impacting on the environment.



GREENPRINT is available with nominal widths of 1300-1800-2200-2400 mm for the application of hot and cold stuffing, adhesives, light coatings, lacquers, and all types of tipping, double tone and design prints. GREENPRINT can work not only leather but also other materials in sheets, such leather board and synthetic materials with mechanical and physical characteristics similar to those of leather.

In particular the most important features of the GREENPRINT machine can be summed up as follows:
new monolithic frame for a totally free of mechanical vibration that may cause stripes during finishing of delicate leathers
finishes even the most thin and supple leathers thanks to its spreader for leather feeding and distension
big diameter rubberized counter-roller for an excellent precision of print
double jack for working thickness adjustment Motorized micrometric adjustment, independent right/left or in tandem
reduced maintenance time and simple machine use even by NON-EXPERIENCED personnel.
Deep Researches and Develpments studies and large scale experimenting guarantees a very high standard in terms of quality, productivity flexibility and operational simplicity, as well as low power consumption and excellent ergonomic CHARACTERISTICS:
absolute absence of vibrations and related stripes on the coating, thanks to a new reinforced structure of the machine
indipendent motor drives for both engraved and contrast cylinders to offer wide processing versatility in answer to present market requirements, always directed at experimenting new effects for application on finished products
independent electronic speed control permits the use of different speeds for the engraved cylinder and the rubber coated cylinder, providing special satin effects and blurred edges on the finished product
GREENPRINT can be equipped with a special washing system for the rubber counter-roller
touch screen of large dimensions and easy-to-use to check the functions of GREENSTARs , the article recipes and alert warnings
specific software and hardware allowing connection to the tannery company network and to internet. The connection to the company network allows either to transfer data to the machine (recipes, batch identifiers, instructions and processing settings, etc.), and to convey the processing data (active working times, maintenance times, processed batches, etc.) anytime. The internet connection allows either the connection with GE.MA.TA. for the resolution of failures and update of the software by remote control
double jack for working thickness adjustment
motorized micrometric adjustment (centesimal precision) of coating thickness, independent right/left or in tandem with digital display on control panel
electronic "Industry 4.0 ready".