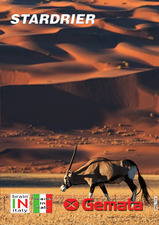 STARDRIER-V is the high efficiency drying tunnel, with heating batteries for steam circulation, to be installed after the Gemata spraying cabins mod. SPRAYSTAR, or rollercoaters mod. STARPLUS, MEGASTAR, JUMBOSTAR SR.


Each compartments is arranged with thermal insulation panels, two side doors for inspection and cleaning, air filters for the air sent to blowers and independent temperature adjustment. Internal ventilation is achieved by a fan, driven by an A/C motor inverter controlled , and air blowers with calibrated slots. The fumes are evacuated by an A/C electro-exhauster with adjustable shutters.
The heating of the air takes place through the heat exchanger steam/air.
The tunnel can be equipped with wire conveyor (for spray lines), net belt or simple idle rollers (for material in bobbins).

STARDRIER-V is a modular product, available with compartments of length 3200 or 4200 mm. and with working width of 1.800, 2.200, 2.600, 3.000, 3.400 and 3.800 mm.

As an option is provided a heat recovery system to improve the efficiency of the tunnel and decrease the residual moisture of the hides at the outlet .