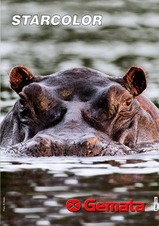 Gemata's long experience as world leader in leather finishing, combined with in depth research and extensive laboratory and tannery experimentation work, has allowed the development of STARCOLOR, an innovative dyeing machine employing throughfeed immersion, the main distinguishing elements of which are:
High efficiency of throughfeed immersion with extremely uniform leather dyeing.
Steady and uniform squeezing pressure at the end of immersion with deep penetration of dyeing product throughout the thickness of the leather.
Highly significant reduction of chemical product consumption compared with traditional dye drums.
Huge working time savings as well as the possibility of processing small lots.
Sharply reduced down time involved in the changeover of various articles, low maintenance and easy machine operation even for inexperienced personnel.
All machine parts in contact with dyeing products are executed in stainless steel.
Leather feeding by two opposing conveyors to guarantee perfect spreading and elimination of any folds.
At the end of each work cycle the pigment pump allows the complete and easy recovery of chemicals from the tank.
STARCOLOR is equipped with numerous innovative features:
Feeding system operated by two opposing mesh conveyors, top and bottom, allowing the througfeed immersion of leather of any thickness because this technical approach compensates for thickness variations.
Intermediate squeezing rollers to facilitate dyeing chemical absorption by the leather.
Feed conveyors are made of material suitable for immersion in the dyeing solution.
Electronic control of feed speed variable up to 10m/min.
At the end of the process, the variable squeezing pressure between rubber roller and engraved roller is by means of pneumatic pistons controlled from the control panel.
Dyeing solution tank made of stainless steel and equipped with heating system electronically controlled from the panel.
Centralized control panel for easy setting through a guidance menu with digital display of working parameters.
Software can be updated with USB memory card.