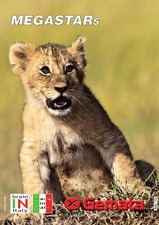 GE.MA.TA.'s thirty year-long experience as a leader in the field of roller finishing, combined with in-depth research and extensive laboratory and tannery experimentation work, has allowed the development of MEGASTARs.


MEGASTARs is an innovative machine for the reverse finishing of very defective leathers with highly uneven thickness. It is possible to spread uniformly on the whole leather surface from 2,5 to 40 grams per square foot of any kind of chemical product on any kind of leather.

The innovative technical features of MEGASTARs allow for the first time to finish WITHOUT USING SPRAYING SYSTEM, highly defective and very soft hides.

With MEGASTARs is possible to apply in reverse precoating, coating, hot and cold oils and waxes on splits, buffed leathers, full grain leathers with considerable savings in comparison with the spraying system finishing.

MEGASTARs features many technical innovations:



Counter and conveying roller of special rubber to increase the quality of the finishing and to reduce the maintenance costs.

Feeding mechanism for reverse coating of soft leather.

Automatic feeding and spreading device for soft leathers (Spreader)

Leather detaching unit made of steel rollers device.

Motorized exit belt to insert leather into the drying tunnel

The speed of the engraved roller can be electronically adjusted up to a maximum of 100 m/min. and the one of the conveying roller up to a maximum of 20 m/min.

The colour doctor blade is positioned on a rigid support ensuring precise and smooth movement. The unit is pneumatically controlled to automatically compensate the wear and tear of the blade.

Doctor blade oscillating system to increase the working life of the blade and of the engraved roller making their consumption uniform.

The working thickness varies according to a centesimal scale, it is displayed on touch screen and "zero" setting is controlled by PLC.

The stainless steel washing tank is equipped with quick pneumatic exclusion system: this solution is used either to lower the tank and to prevent the brush and the roller cleaning blade from touching the roller at the end of the working cycle.

Quick replacement of the washing brush.

New types of rollers with a "long life" treatment.

Double diaphragm pigment pump with stainless steel recycling trays with anti-adherent treatment.