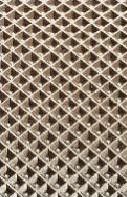 These rollers are called 'SYNCHRO' because they rotate with a speed synchronized to the skin feeding one.

These are rollers that used to be employed in the direct traditional finishing (SYNCHRO) when softer skins could not be finished in REVERSE.

Normally the skins (especially the soft ones) stick to the roller and need to be removed manually or with a special skin removing machine.

Nowadays the finest incisions are employed to obtain double tone effects (tipping on embossed surfaces); the bigger incisions for the use of dye on soft goat-sheep skins.





Type
Capacity
Applications
8 L
12 - 16
Applications of resins and glue
10 L
10 - 14
Application of hot and cold and wax
12 L
9 - 13
16 L
6 - 9
Aniline dyeing
Light covering on full grain
Application of laquer
20 L
5 - 8
24 L
4 - 7
32 L
2 - 4
Double-tone (multipoint) on heavy grain
40 L
1 - 3
48 L
1 - 2
Double-tone (multipoint) on light grain
60 L
1

This table is purely indicative. The capacity (in g/ft2) varies depending on the working speed and on the product's viscosity. Increasing the product's viscosity decreases the roller's capacity. The skin preparation is just as important in determining the absorbance and, therefore, the weight of the material deposited.