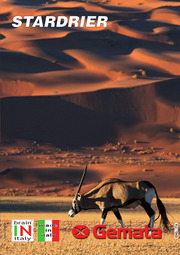 STARDRIER-IR is the high efficiency drying tunnel, with heating by infra-red radiation, to be installed after the Gemata spraying cabins mod. SPRAYSTAR, or rollercoaters mod. STARPLUS, MEGASTAR, JUMBOSTAR SR.


Each compartments is arranged with thermal insulation panels, set of medium wave radiation lamps and independent temperature adjustment. A polished panel, galvanized steel made, is placed on top of each lamp to convey the radiations, thus increasing the overall efficiency. The IR lamps are controlled by a dedicated software for their modulating operating mode, that allows to get important savings of energy.
No inside ventilation is there; only fumes extraction by an A/C electro-exhauster with adjustable shutters.

The tunnel can be equipped with wire conveyor (for spray lines), net belt or simple idle rollers (for material in bobbins).

STARDRIER-IR is a modular product, available with compartments of length 3200 or 4200 mm. and with working width of 1.800, 2.200, 2.600, 3.000, 3.400 and 3.800 mm.