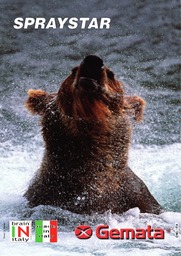 SPRAYSTAR, the new spraying cabin fitted with aerograph system designed by Gemata is one of the marketís most eagerly awaited new products.


Presented for the first time at the Tanning Tech trade fair in Bologna in 2002, it immediately became popular and has since been installed in numerous Italian and foreign finishing plants.

Manufactured entirely in stainless steel, it features aluminium doors with working widths of 1800, 2200, 2600, 3000, 3400 and 3800 mm in both the dry and water-wash versions.

The cabin is supplied with a wide range of highly efficient drying tunnels (STARDRIER or MULTIDRIER), which according to productive requirements, can be convective, powered by steam, heated water, gas, diathermal oil or the static radiance type with low frequency, electrically powered infrared elements.

At the end of the drying tunnel, before the leather is automatically stacked using COMSTACK, it is possible to install CHILLER, a controlled humidity cooling cell, fitted with a radiator and a condensing unit, or a simple ventilation standard cooling unit.

In detail SPRAYSTAR features:

The octagonal shape optimises internal air exhaust flow, thus preventing smoke stagnation in corners, a problem common with traditional rectangular models.

On the main corridor side there are three large double doors with aluminium wings and sliding upper glass panels; the folding doors allow total access to the interior of the cabin.

Inner stainless steel sliding panels for collecting and separating dusts that are divided into sections and easily removable in the dry cabin for swift and easy cleaning. The dust/products are collected in a dust collection tank divided into three sections that slides on wheels for easy manoeuvring.

8 to 16 gun brackets carousel with oval section joined to the flat-roof type rotating ceiling with a maximum of 3 circuits and 48 guns. The hollow tubular section arms are designed to contain the air and pigment hoses in such a way as to reduce the vortex effect and make inner cleansing easier.

The distribution shaft, with a maximum of 8 ways, extremely lightweight and compact, is equipped with special slippery seals on ceramic surfaces to reduce wear and maintain it perfectly hermetic even over long periods of time.

Can be combined with any high or low pressure spraying system (HVLP, AIRLESS, AIR-MIX, etc.) with large circuits and a device for loading, unloading and automatic washing the pigment system.

The high performance smoke scrubber (of water mist type) for smoke elimination is equipped with stainless steel filters and a sedimentation tank that is easily accessible for rapid extraction, and maintenance; it is characterised by a maximum suction capacity of 30,500 m3/h and solid smoke particle emission lower than legal limits.

The product economizer with a speed display, for the conveyor and the carousel, provides production statistics for the number of finished hides, and for the total surface size in square feet and for the product/pigment consumption. In addition, the leather and the spray gun action on the leather can also be displayed.

All the pneumatic and electric controls and carousel function controls are located on a single central panel that is easily accessed by the operator. In particular it is possible to command carousel speed and set it in step mode to signal the spray guns opposite the operator.